Mobile Phone Subscribers
Balancing minimal resources
The Mobile Phone Subscribers Microworld is a simple stand-alone simulation that deals with word-of-mouth and customer churn issues, the growth in subscribers, and the challenge of creating the capacity required to sustain high levels of growth.
Although cell-phone markets are now mature, the same mechanisms repeat every time a new generation of technology is launched.
This game introduces and demonstrates the important dynamic concepts of accumulating resources [subscribers] and capacity limits. Players have two main items are under their control - marketing and the ability to increase network capacity.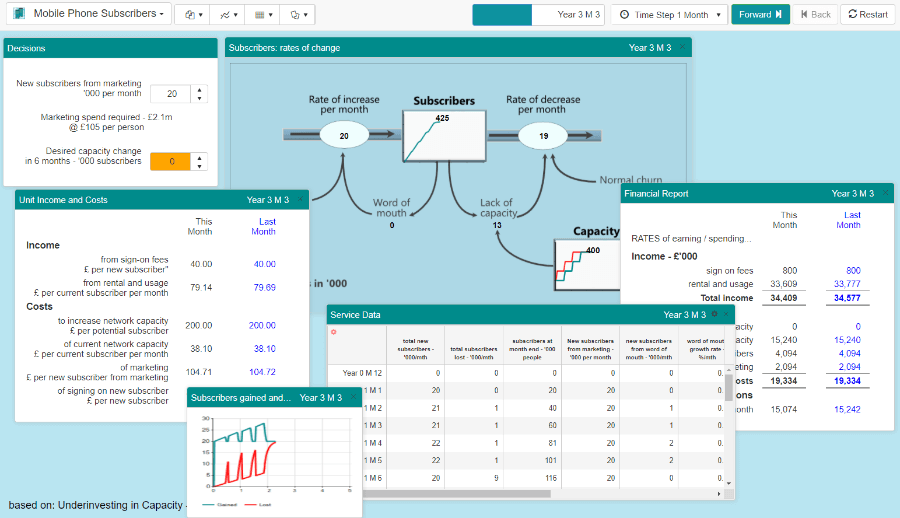 Features
Teams control strategy by making a small number of key decisions, and can progress through the simulation at their own pace, trying alternatives and saving scenarios.
Includes, tutorials and three pre-set challenges – you can also create your own challenges for your courses.
Event materials comprise a user's guide for event participants and instructor's slides and slide notes for Event Managers.
| Feature List | |
| --- | --- |
| CHALLENGES | Three challenges included - part played scenarios that provide different situations for students to work with. |
| teachers materials | Site License materials include the user's guide as well as instructor's slides and slide notes. |
| Resource Map | Simple resource map showing a summary of the current state of the data. |
| Reports | Three numerical reports showing relevant financial and operational data. |
| Charts | Pre-set charts showing the history of key data items. Additionally any item appearing in a table can be represented as a graph - simply double click on the table heading. |
| Table Data | Tables showing financial and service data, a table of all public variable and history of user decisions. Table data can be expored in CSV format to enable analysis. |
| Game Notes | Use the Game Notepad to record strategies. In conjunction with easy copy and paste facilities for Reports, Graphs and Tables this makes presentation of results simple. |
| SAVE COMMENTS WITH GAMES | By default, comments in the game notepad can be saved with the game making it easy to create new scenarios for students. |
Uses
This game can be played by individuals or small teams. It plays out business performance over a time-scale that is long enough to experience the complexity of strategy and decision-making. Teams control strategy by making a small number of key decisions, and can progress through the simulation at their own pace, trying alternatives and saving scenarios.
The courses in which it may be useful are:
Strategy Dynamics courses - resource-building and attrition, with feedback
Strategy courses or workshops - basics of resource-based view of strategy (RBV) connecting resources and performance
Systems thinking courses or workshops - resource-building and feedback
Marketing courses or workshops - basics of customer-acquisition and retention, driven by marketing and limited by service capacity
Key learning points
Principles of accumulation and depletion of resources.
Accumulation and depletion (building and losing) of a customer base (or other resource) over time. Reinforcing feedback drives growth from word of mouth and balancing feedback limits growth, due to capacity limits,
Graduated exercise help demonstrate the difficulty of managing a single-stock system - which when compounded creates dynamic complexity
Customers accumulate in virtually every business context; word-of-mouth drives customer growth in many industries, customer growth is limited by the business's capacity to support sales or service in many cases.
Contexts where similar specific structures arise - exploiting a potential new market for any capacity-limited service (internet services, travel, leisure, business services etc.).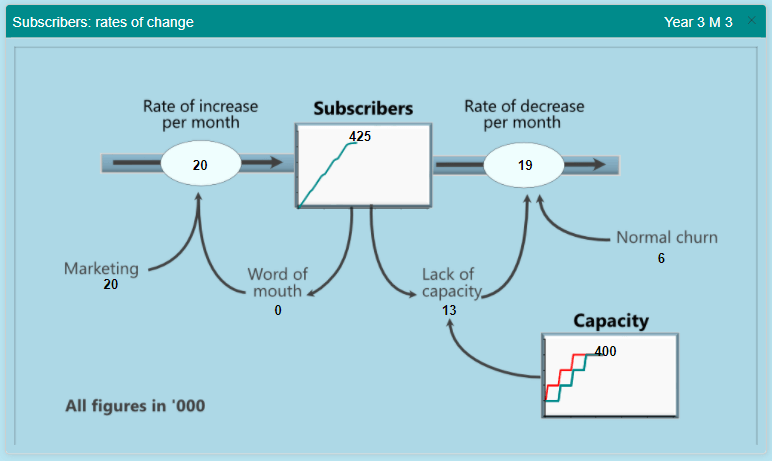 Reviews